Hope Has Arrived
By: Sarah Fox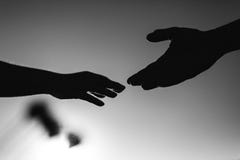 Innocent 12-year-old girl,
She stands alone.
She's broken, hurt,
And lost in this dark world.
Her heart was ruined,
Her life was drained,
Her trust was broken,
And only the pain remained.
Her father stepped out on her.
He caused the hurt of her sister and mother.
The sorrow was piercing the young girl's soul.
Only God the Father can make her whole.
Her pure heart was shattered,
Her glass walls were scattered,
Her very soul became tattered.
Five years down the road,
Fear and loneliness became her abode.
Although she is older now,
She can never forget,
The day that her innocence,
Was buried in the ground.
She stands at this tombstone,
With grief and disdain.
Her eyes well up with tears as the dark thoughts remain.
Her Heavenly Father didn't forget her.
He saw her in the mess.
He kept her going through the trials and the stress.
He held her tightly in His arms,
Keeping her from fear and harm.
---
"Why do you love me?" she asked as she stood silently in the graveyard.
"I knew you before the world began. I formed you in your mother's womb. Your life is part of my perfect plan."
She trembled when she heard the voice of God.
"Don't you know all of the evil things that I've done?"
"Yes, I do. All of your sins are forgiven, due to the sacrifice of my Son. I love Him as much as I love you because He and I are one."
The young girl shook her head. "I constantly fail you. I break your heart with my foolish deeds. My wicked thoughts must make you ashamed of me."
Her Heavenly Father gave her a gracious smile. "I still love you, my daughter. I created you. I justified you with my righteousness. I glorified you with a standard of holiness. I called you by your name. You never have to doubt my love for you. It is everlasting and it will never change. When the earth shakes and the mountains break, my love for you will always remain the same."
"You don't understand!" the girl screamed.  "I wanted to die! I thought that your ears were deaf to my cries. I thought that you didn't care enough to notice the streams of tears that fell from my eyes. I got detained just because I caved into the Devil's lies!"
He watched as the tears flowed from her eyes.
She fell on her knees and flooded the earth with her sobs.
He walked over to her and rested His hand on her shoulder.
He kneeled down on the ground and lifted the girl to her feet.
He wasn't about to let His child be smitten with defeat.
He wrapped His arms around her and wiped the tears from her face.
Instead of lashing out at her in anger,
He showered her with His grace.
"My daughter," he whispered as he hushed her sobbing. "I've seen the anguish that you've had to endure. I want you to know that I am here for you. You are now rich because my Son became poor. He was beaten, bruised, and nailed to a cross. You gained the fullness of my mercy at His expense. He wants you to know that you were worth dying for."
---
Although she is not where she wants to be,
Hope is still within her reach.
She has a testimony to tell.
She has a miraculous story to preach.
Hope rises within her soul,
As God takes the broken pieces,
And makes her spirit whole.
God's grace sustains her all the way.
It makes her look forward to a brighter day.
As she walks through the valleys and shadows of her past,
She fears no evil.
She awaits the day where she will be free at last.
Innocence died,
Hope will arise.
She is pressing toward the prize.
God's grace shines in her eyes.
Out of the ashes of pain and sorrow,
Hope has arrived!
My little children (believers, dear ones), I am writing you these things so that you will not sin and violate God's law. And if anyone sins, we have an Advocate [who will intercede for us] with the Father: Jesus Christ the righteous [the upright, the just One, who conforms to the Father's will in every way—purpose, thought, and action].- 1 John 2:1